Setting the record straight on county cuts
County councillor David Williams writes:
[Read more]
Find your Green Party candidate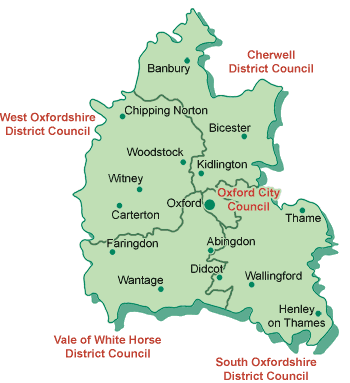 The Green Party has candidates in all Oxford wards, all but one in West Oxfordshire, and has 20 candidates in the Cherwell District local elections.
[Read more]
We need lots of helpers on election day, 5 May 2016. Please take the day off work and come and help. We have candidates standing in 3 councils. 24 in Oxford City, 23 in West Oxfordshire and 20 in Cherwell District.
We need people to:
Telephone or visit green voters to remind them to get to their polling station.
(In 2013 we lost a seat by 27 votes when our voters stayed at home.)
Help voters get to the polls
(from giving lifts to baby sitting).
Sit outside polling stations smiling at voters and writing down voter numbers (telling).
Walk or cycle around town, with Green Party banners, handing out pledge cards.
(so everyone is reminded that there is an election where they can vote Green.)
Help at our committee rooms
(from making tea and coffee to entering data into computers).
In the evening, as the ballots are opened, tally the votes
(so we know where people are voting green).
We also need help in the days before polling day, preparing and delivering eve of poll leaflets.
Please come to Oxford to help.
If you cannot make it to Oxford, we need help in Bodicote (nr. Banbury) and Witney.
When you RSVP below, you will then be sent to a page to indicate your preferences in how you can help. Please complete that page. We will get back to you with specific details about when and where you will be helping.
Thursday, May 05, 2016 at 10:00 PM through May 06, 2016 · 3 rsvps
Have you ever seen how votes are counted in an election? Green Party supporters can join us at the count on Thursday 5 and Friday 6 May this year.
We are there to inspect the count, not do the counting. We are looking for mistakes by tired counters, like putting ballots in the wrong pile.
In particular, when the ballot boxes are opened on Thursday evening, we can tally votes. Tallying, as done by Irish Tally(wo)men, is to tick off against a candidate each vote as it comes out of the ballot box. With a sample of 50 to 100 votes, we can work out which particular streets within a ward have more Green voters. That is rather useful thing to know when planning the next election campaign.
So we need 24 volunteers to come on Thursday evening, from 10 p.m., with the candidates and agents to tally the votes. Please sign up if you can come. I need to submit a list of counting agents to the council before 2 May. Only those on the list can get in.
Then on Friday morning, from 9.30 a.m., the staff start to count the votes for each city council candidate. We just keep watch for mistakes. Let me know if you want to come to that.
Wednesday, May 11, 2016 at 07:00 PM
This meeting will focus particularly on future Community Energy policies. Members only.
Please contact Steve Dawe for agenda and directions.
Do you like this page?