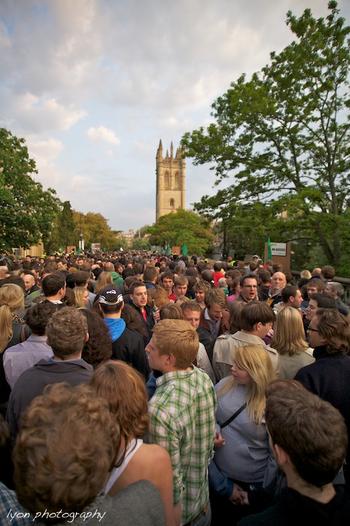 Early on May morning, people gather at the Magdalen Bridge in Oxford to celebrate May Day in traditional style. We will be celebrating May Day by campaigning for votes in the Oxford City Council election.
Oxford has 6 Green Party councillors. With just two more we will become the official opposition. But Labour has had 70 canvassers out in the ward of our group leader, so we have a fight on our hands.
This weekend is the big push before polling day. Come and learn how a large scale campaign is run. We have 24 candidates, a full slate, and excellent canvassing software.
In the early morning we will be delivering polling remember to vote slips in blocks of flats (while the trademen's buzzers work). Then later in the morning and again in the afternoon we will be knocking on doors finding more Green voters to get out on Thursday.
Please sign up for one or more of the shifts, so we can make sure there are campaign materials available for all of you. We provide training, and mentors to show you how to canvass. You will get an email listing meeting places and contacts. 
Green Party members from outside Oxford will be coming to campaign this weekend. If you have space for them to stay on Saturday night, please email <[email protected]> now.
WHEN
May 01, 2016 at 11:00am - 5pm
CONTACT
David Newman · · 01865 429750
3 RSVPS



---