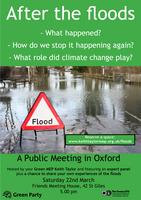 After the floods: What happened and how do we stop it happening again?
In the first week of March Keith Taylor MEP will host a series of public meetings about the terrible flooding that has hit his constituency in recent weeks.
This meeting, in Oxford, will aim to answer a number of questions:
1) Why did the floods happen?
2) What role did climate change play in the floods?
3) Can we stop floods like this happening in the future?
Reserve a place at the event here.
Local residents will be given a chance to have their say on what happened.
Speakers TBC
The public meetings will bring together environmental experts and local residents to discuss ways to avoid flooding in the future.
WHEN
March 22, 2014 at 6:00pm - 8pm
CONTACT
Elise Benjamin · · 07951 089 087
---